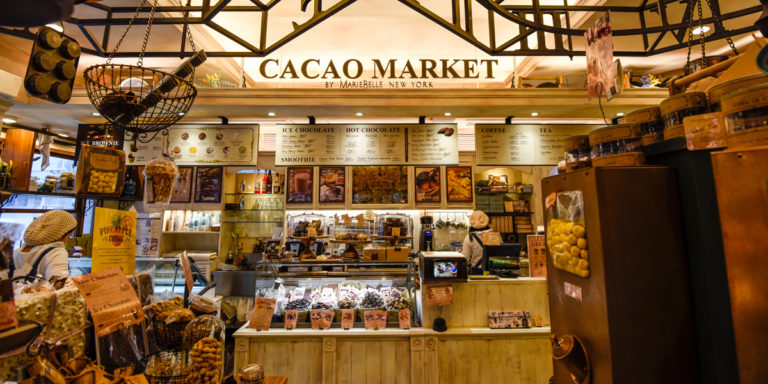 2017年7月3日
New York's famous chocolate confectionery has come to Ishigaki island!
Chocolate from New York! Please enjoy the genuine taste.
Brooklyn's MARIEBELLE is a chocolate shop that has won the hearts of the New Yorkers known for their sense of taste. Its unique cacao beans grown from its own farm in Central America's Honduras have a rich aroma and are fruity. Performing the process from fermenting the highest quality beans to drying them along its own recipe, MARIEBELLE is using these beans as the ingredient for its chocolate. The resulting finest chocolate has proven its deliciousness that has become famous among chocolate lovers.
With a desire to have even more people enjoy this delightful chocolate, Cacao Market was established as a casual alternative. As the name reveals, customers can enjoy choosing chocolate as if they are on a market. Holding on to the quality of its ingredients, each chocolate is made with the same care as at MARIEBELLE.
With a strong aroma, the chocolate carefully balances an acid and sweet taste. Moreover, having a rich flavour, you will discover genuine chocolate with an elegant aftertaste.
Following Kyoto and Tokyo, Cacao Market has now arrived to Ishigaki. Once you make one step into the shop's ambiance filled with an antique atmosphere, you feel like being in America. Please enjoy the luxury of scanning, choosing and eating your chocolate at Cacao Market.
---
Shop information
Cacao Market
730 COURT North 1F
TEL 0980-82-2206
Opening hours 11:00-21:00
Open year-round
---

この記事は「730NAVI vol.1」に掲載されています。
●カカオマーケットbyマリベル
●asha hair solution 石垣島
●島の手仕事 1 – shimaai 島藍農園
●石垣島探訪 1 – 平久保埼灯台
---