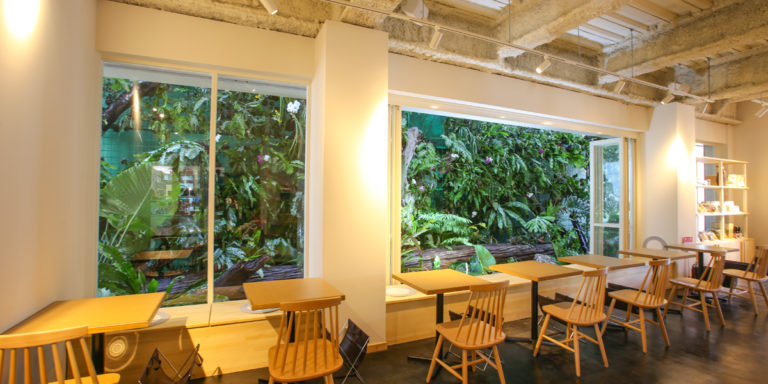 2017年7月3日
Delicious red bean sweets Popular brand from Gion, Kyoto opens its second store in Ishigakijima.
Relax in a lavish, tropical green atmosphere of this Japanese style cafe.
At a location directly facing the 730 Crossing, Kyoto's Anon has opened its new premises. Its red bean paste consists of beans from Hokaido's famous Tokachi and Kyoto's Tanba, among others. It maintains an authentic flavour. The delicacies that are prepared based on a concept of having as many people enjoy its delicious flavour taste provide a 'New Taste' sweets experience, combining Japanese and Western styles. If you proceed to the far end of the store that looks like a traditional Kyoto townhouse, you will bump into a lavish tropical forest. The wall decorated with various plants originating from Ishigaki island makes visitors relaxed and unwind.
The menu offers many attractive options: Okinawan Pancake, Coffee with red bean soup, or the so-called An Tarte filled with purple yam bean paste plus mascarpone cream. Shaved ice that can't be resisted on this southern island is prepared selecting only the best of both Ishigaki and Kyoto, such as pineapple and Uji green tea. Without noticing you will end up staying a long time in the cafe as you enjoy your sweets' break amidst the green ambiance. The shop furthermore offers options for a light meal including Kyoto traditional ankake noodles, taco rice, as well as a selection of alcoholic beverages like Ishigaki local beer and mojito. Anon offers a range of options to please one's appetite.
---
Shop information
Ishigakiji Anon
730 COURT South 1F
TEL 0980-84-1284
Opening hours 11:00〜23:00
Open year-round
---
この記事は「730NAVI vol.2」に掲載されています。
●元祖紅いも菓子本舗 御菓子御殿
●石垣島 あのん
●島の手仕事 2 – garden pana ガーデンパナ
●石垣島探訪 2 – 米原ビーチ


---