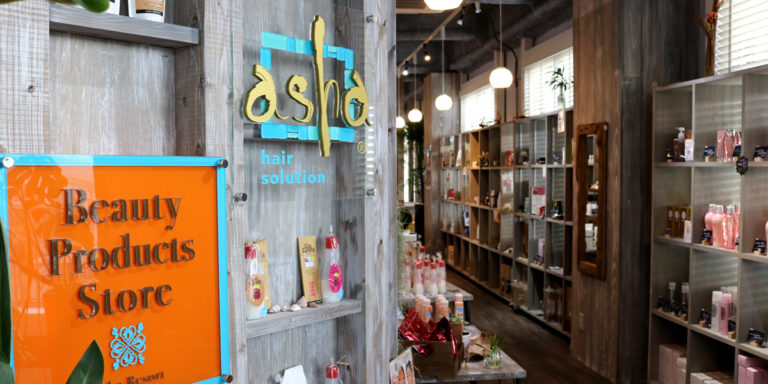 2017年7月3日
New to Ishigaki: exclusively organic hair salon!
A perfectly styled haircut. A comfortable and reliable relaxation space.
With a concept of benefitting humans and the environment, a new hair salon has opened in Ishigaki, expanding its footprint to this southern island from its base in trendy Kobe in Kansai area, Japan. Once you enter, you will feel automatically relaxed in the shop designed with gentle lighting and a calm interior. While you will soon notice the attractive accessories on display when heading forward, the three staff members will greet you with a warm smile. Products for shampoo, rinsing, perms are all organic. In addition to original Asha products that take reliability and safety as their motto, customers have the option to choose the creations of John Masters Organics, the organic cosmetics brand that is popular across the globe. All products are biodegradable, having them return to water. Therefore, there are no concerns to pollute waters and seas such as the beautiful ones around Ishigaki island.

Shop owner and stylist Mr. Koichi Takeuchi has a unique track record, having represented Japan twice at the prestigious Organisation Mondiale Coiffure's World Cup. It goes without saying that he provides haircuts that fit the hair type and contours of each customer individually. Based on continuous research on hair styles that fit Ishigaki's climate, he cares for his customers' hair styles alike. 'Recently, I enjoy styling simply with my fingers instead of using hair brushes,' comments Takeuchi.
In the salon, you will also find John Masters Organics items and other selected accessories with an Asian touch. Please feel warmly invited to drop by and have a look.
---
Shop Information
asha hair solution ishigakijima
730 COURT North 4F
TEL 0980-87-5235
Opening hours 11:00~20:00
Closed on Mondays
Cut 3,500 yen、Colour 5,000 yen、Perm 12,000 yen (All excluding tax)
---

この記事は「730NAVI vol.1」に掲載されています。
●カカオマーケットbyマリベル
●asha hair solution 石垣島
●島の手仕事 1 – shimaai 島藍農園
●石垣島探訪 1 – 平久保埼灯台
---